Welcome to Gekkou Wiki
Gekkou (月光, Gekkou) or Moonlight is a light novel written by Natsuki Mamiya (間宮夏生) and illustrated by Shiromiso (白味噌). This light novel has the same setting as the novel Hen Ai Psychedelic.
You can help this wiki by editing and adding pages.
Synopsis
Gekkou, or "Moonlight", is about the peculiar relationship between a cynical boy and a perfect girl. Said cynical boy is Nonomiya who spends day in day out in boredom, taking refuge from his dull life in his imagination. One fateful day, he happens upon the notebook of the much-rumored beauty Youko Tsukimori, neglected on the ground. Poking out from it is a scrap of paper with the unexpected title "Murder Recipe". His interest ignited, he immediately stuffs it into his pocket, only to find out the promising recipe contains nothing but scenarios that may or may not lead to deadly accidents, not even worthy of being called a plan.When he tentatively asks her about it the next day, she hasn't lost anything. But then her father dies. An accident...
Characters
Featured Video
Latest Activity
Photos and videos are a great way to add visuals to your wiki. Find videos about your topic by exploring Wikia's Video Library.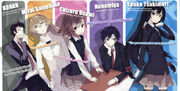 Community content is available under
CC-BY-SA
unless otherwise noted.